Saturday, March 16, 1985
I'm feeling jealous because Emily has a friend in from California and you are in New Orleans. Lisa says I should nag you to come to New York... I know you've seen New York City before, but let me tell you a little something... New York is one of the most exciting cities in the world. It has two of the tallest buildings in the USA. The most famous skyline.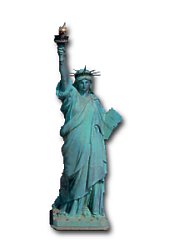 And the Statue of Liberty (which one is unable to visit right now). It has five boroughs (or counties) and is enormous. NYC contains more Jews than Israel, more Puerto Ricans than Puerto Rico, and more businessmen than Japan. Right now, the temperature hovers between 48 and 55 degrees during the day and may drop to as low as 33 degrees at night. The sun shines, the wind blows. Brooklyn Heights is one of those affluent neighborhoods just across the East River from Manhattan. In the shadow of the beautiful Brooklyn Bridge lies the wonderful Brooklyn Heights Esplanade, where on sunny afternoons young lovers can be seen walking to and fro holding hands

and enjoying the breathtaking view of Manhattan. Just across the Bridge, on that illustrious Manhattan Island, tourists can visit such tourist traps as: the top of the World Trade Center, the Staten Island Ferry, the Broadway show, the Greenwich Village, the Wall Street, the South Street Seaport, the Columbia University (where one can fall in love with the university's charm and decide to do one's post-graduate studies), the wonderful eating establishments on expensive Columbus Avenue, the Tower Records, the Saks Fifth Avenue, the FAO Schwartz, the Doubleday Bookstore, the Rockefeller Center, and many others.
One can even, if one play's one's cards correctly, have a wonderful chicken dinner cooked for one in the apartment of a real live New Yorker (a New York Jew, no less)... There is a wonderful place to stay in the previously noted Brooklyn Heights. A lovely place, with view, at a fraction of the cost of the Milford Plaza. The service, music, and sights of this Brooklyn Heights establishment far surpass anyplace else one may think of staying. Until April 15. Until then, this place will be virtually empty. After that [AA: when Juliet's grandparents would return from Florida and she would have to share their apartment again], it is probably infinitely safer to stay at the Milford Plaza.
If you come to New York, I'll play the guitar and sing you a song or two. I'll make love with you. I'll make dinner for you. I'll make you coffee or gin and tonics. What else can I say?
How's that for nagging?